Sunday Schedule
9:30am- Classic Service/ Connect Groups
10:45am- Contemporary Service/
Kid Church/ Connect Groups
Wednesday Schedule
-Youth Worship (B3 Auditorium)
-Kid's Groups (Kid's Dept.)
-A Mother's Heart (The Cave)
-Men's Fraternity (The Parlor)
-The Well/ B3 Young Adults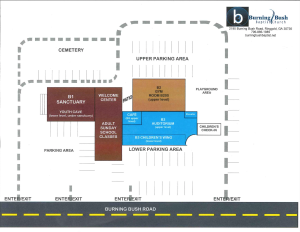 WHAT CAN I EXPECT ON MY FIRST VISIT?
From the moment you pull into the parking lot, you'll be made to feel at home. Our terrific parking team will direct you as you enter the campus. Then, our greeters will be poised and ready to give directions or answer any questions you may have. If you have children, you'll want to take advantage of our safe and secure children's services designed just for them. As you enter the worship center, our ushers will welcome you, and hand you an information-filled worship guide and help you to your seat. Then, sit back, relax, and enjoy the service!
WHAT IS A SERVICE LIKE?
Our Lead Pastor, Dennis Mcnulty is passionate about communicating God's word in a relevant and practical manner. He creatively communicates in a way that speaks to today's culture. His heart is on how to apply Christ's teachings to our every day lives. Great music wraps the message in all services with several styles that fit the manner in which you best Worship. All the music has a single purpose– to prepare your heart for what God has for you.
WHERE DO I TAKE MY CHILDREN
You will find first-class programs for your children, from birth through 5th grade. Our nurseries and children's departments are located in the B3 wing of the church with their own secure entrance. You will find folks there who love children and will provide a caring and safe environment for them.
DO YOU HAVE SOMETHING FOR STUDENTS?
Our student ministry has Sunday school at 9:30 AM in the youth cave located directly under the sanctuary.
If you have any further questions, please feel free to contact us! (706) 866-1989
bbbc@volstate.net